Favorite Rocking Chair
---
One of my favorite things to do is sit in my rocking chair with a good book and a cup of tea.
My rocking chair looks elegant and feels comfortable. I purchased it over 20 years ago from a furniture store that stocked oddball items. I never knew much about its design or manufacture, except that it was created in Italy. Even though I've looked quite a bit, I know of only a handful like it.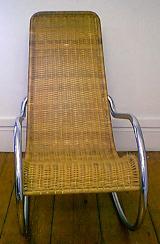 Front View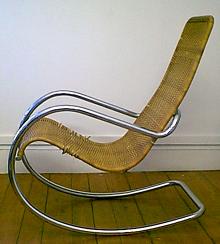 Side View
It's constructed of just two pieces of bent steel tubing and covered with woven rattan. A single chromed piece of tubing forms the rockers and arms.
The chair is tall without looking absurd. The lowest point of the seat is only 13" above the floor and the highest point of the back is 44". That's enough I can sit in the chair, lean back, and rest my head on the chair back without hitting the top of the back even though I'm large and tall.
The woven rattan material is quite heavy. Each individual strand of rattan is over 1/4" wide, around 1/16" thick at the edges, and approaches 3/32" in the thicker center.
I've known of only six of these chairs in my lifetime, of which I own two. I first saw three of them in an oddball furniture store in Santa Clara, California in the late '70s. They were unlike anything else any other furniture store had. The owner intimated he'd found them on a buying trip somewhere in Europe. I didn't purchase one at the time. About three years later in different circumstances I returned to the store. Apparently they didn't move very well, as one of the three was still there. That's the one I purchased and have now owned for a long time. All the photographs on this page are of that chair.
A decade later on the other side of the continent an acquaintance told me he knew a family that had an identical chair which was so thoroughly worn it was hardly usable. I never saw that chair myself and can't find out any more about it as I no longer have any contact with that person.
A fifth chair appeared on eBay in late 2001. The seller said he'd picked it up at an estate auction in Florida, and evidently thought it was valuable, perhaps as some kind of antique. I attempted to purchase it but the transaction was never completed.
The sixth chair also appeared on eBay, this one in early 2003. I purchased it. But when it arrived I discovered it was more worn than the one I already had.
The two chairs I own are subtly different, shedding light on the apparent evolution of the chair over time. The rocker frame of my primary one is a single piece of bent steel tubing. By contrast the same frame on my other chair is composed of four pieces connected together by a few screws. The shapes are also subtly different, with the primary chair having more slight bends while the other chair emphasizes straight lines. The primary chair is very comfortable to sit in and rocks very well. Although they look the same to all but a very thorough visual examination, the other one isn't as comfortable to sit in and at first feels like it's going to tip over when it's rocked.
After many years the chair showed significant wear. In some places the woven rattan still looked like it did when it was new. But in other places the rattan had broken and split from age and wear.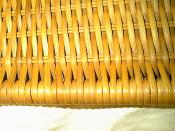 Intact Woven Rattan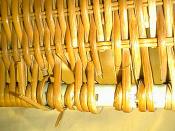 Worn Woven Rattan
It became clear that common chair caning techniques couldn't handle it at all (probably because the woven rattan doesn't pass through holes in a frame as is typical with caning). I was told perhaps basketweaving techniques could handle it, and I also held in reserve the idea that wicker furniture repair techniques could handle it.
I eventually found a nearby antique shop with a specialty in wicker furniture restoration that was willing to attempt repair. The owner was able to reweave the damaged portions of the chair, then re-stain the whole thing so the color was once again uniform. She used a material similar to the original, a rattan substance of nearly the same width with one flat surface and one curved surface. And she didn't have any issue at all with handling the ends (which initially looked to me like a significant problem).
Now that it's repaired, I expect to be able to use my rocking chair for another 20 years.
---