Jennie
---
This is Jennie Cook-Kollars. Jennie is her mom's mom's name.
As a small child she liked paint, glue, tape, glitter, and so forth and made some project every couple of days. Her first household chore was to put out the placemats on the dinner table.
Jennie has moved on from Doyon primary school through the Ipswich Middle School to the Ipswich High School then through Amherst College as an undergraduate, and finally through graduate studies at Lehigh University where she earned her Masters in Geology. (Geology combines uniquely well with her heavy background in Chemistry.) She evaded the Geology PhD track because being over-qualified would have made it even harder to find employment outside academia than it already was.
Besides working on wrapping up her schooling, she got married in Spring 2013.
Her current interests -as with many young adults- vary widely.
Many years ago Jennie's combined first and second grade class did their own web project and Jennie had her own page. She also drew a webpage for this website at that time. Now of course she uses the social networking sites. She was active in a gymnastics program outside of school for many years. When she was quite a bit younger she participated in a monthly playgroup with several others about the same age.
During Middle School and High School her interests included making music with both the viola and the oboe, kayaking (for help see Essex River Basin Adventures or New England Small Craft), theater lighting, and mathematics. With the viola she was part of a string quartet Little Women of girls all about her age, and with the oboe she participated in the high school band (including playing at home football games for a perfect losing season, which she didn't especially enjoy). She had a couple kayaks which could be carried on the roof of the car for outings either with a friend or with her Mom.
During Middle School years, she was one of the prime members on the Math League team fielded by the Ipswich Middle School. She attended a JHU/CTY course on Cryptography for three weeks in summer 2002 and a course on Mathematical Reasoning in summer 2003. Although she was very good at math, a primary motivation was a mentor relationship with one particular teacher, and when that teacher retired her math league activity shriveled into insignificance over a few years. She continued to use her math skills as a tool in other areas (physics, chemistry), but no longer focused on the math itself.
She spent an awful lot of time in high school working the auditorium and stage lights for the drama group, in the end being involved in all twelve drama productions over the course of her time. The faculty advisor of the "techies" was her chief mentor. She once made a comment something to the effect that theater lighting was like crack cocaine, it absorbs all your time and you can't quit. She was sometimes teasingly called the "queen of lights". Her younger brother, who joins her in many activities, also inherited a commitment to the high school drama "techie" group.
Both the high school and the middle school she attended occupied a school building that was freshly constructed when she started middle school. The remarkable layout of the new school occasioned a lot of comment from surrounding towns. Sharing a building, even with separate entrances and closed doors between classrom areas, isn't especially common. The new institution has been a real boon to Ipswich.
During her undergraduate years her interests included the college symphony, baking, hanging out at the farmers market, snacking on chocolate chip sourdough bread, lighting for drama productions, and rock climbing. If it makes sense to identify one interest as "chief among equals", it would have been rock climbing. Only a very small proportion of students spend their spring vacation week going with kids from surrouding colleges to a place in Kentucky with more than twenty rock climbing faces where kids from all over the country are welcomed.
She picked up the art of reading young, without any encouragement beyond Sesame street and a couple beginner books. In kindergarten she was so good at it she could read a whole page of material written for kids a couple years older before she got tired. Many years ago I gave her a copy of "The Once And Future King," then belatedly realized some of the content might not have been age appropriate at that time. Now she's read tens of times more fantasy/science fiction books than I've even heard of. Her checkout lists from the library make mine look puny. Her reading skills are scary to me.
When she was small she really liked it one day when an ice cream truck stopped by. I knew such trucks were rare and would only keep coming if there was steady business, and I was terrified of not hearing the truck soon enough or not opening my wallet fast enough or not having the right change or being too hard to find or not being there at all, and so causing Jennie and Caleb to miss the ice cream truck. So I put an envelope on the low bulletin board they could reach easily and put enough one dollar bills in it for two kids visiting the ice cream truck twice, then told her when she heard the ice cream truck to "just get the money and go to the ice cream truck, it's always okay". (An envelope with cash in it might not have worked with older siblings "supplementing" their allowance when nobody was looking. But as there were no older siblings to worry about with Jennie and Caleb, it worked fine for them.) After the ice cream truck came I'd simply remove any loose change from the envelope and restock the one dollar bills. This worked really well for many years.
When she was in the oldest grade at her primary school, as a "responsible oldster" she was in and out of the classroom quite a bit. It was weird to me to see how grown up she had become, because I remembered clearly when she learned to walk and it didn't seem all that long ago.
In elementary school she learned the viola and participated in all the stringed instrument activities. She was proud of how many different songs she could play. She figured out on her own how to tune the instrument before they covered that in school. Over the years she got more serious about the viola. It probably helped that the string teacher was the mother of one of her good friends. In high school she played in chamber music groups and the Northshore Youth Symphony Orchestra. She also started to play the oboe as well as the viola, the idea being she could play in the orchestra with one instrument and in the band with the other instrument at the same time.
Some uncommon food allergies and other health problems emerged in early adulthood. Dealing with these hasn't always been easy. For example in the U.S. (unlike in many other countries) it's tricky to find foods that don't contain any soy protein as an additive or as an ingredient.
Currently she's found employment as an environmental inspector for construction jobs. She researches the regulatory history of each site, then helps the contractors deal with old pollution and avoid new pollution. Unfortunately her daily commute is horrendous. Things like podcast subscriptions and Books on Tape and making notes with dictation recorders make barely bearable what would otherwise be intolerable.
She's become quite interested in growing food. First she just had adventures harvesting large unwieldly vegetables from her back porch. The next summer she moved up to both
preparing a website for and getting her hands in the dirt at the local communal garden (Easton Urban Farm)
.
She's part of the Kollars family.
---
Here's another childhood picture.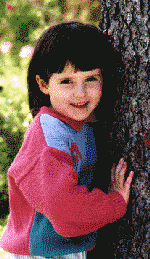 ---